So, you're getting married! Congratulations! Now, you face thousands of decisions about everything from dresses, to rings, to DJ's…..
Of course, there are also all those questions about wedding stationery! What do you need? What can you just skip? What the heck are they even for?! Let me help you out.
A Closer Look at Wedding Stationery
Let's take a look at what you really need—and what you might not need for your upcoming wedding.
Save the Date Cards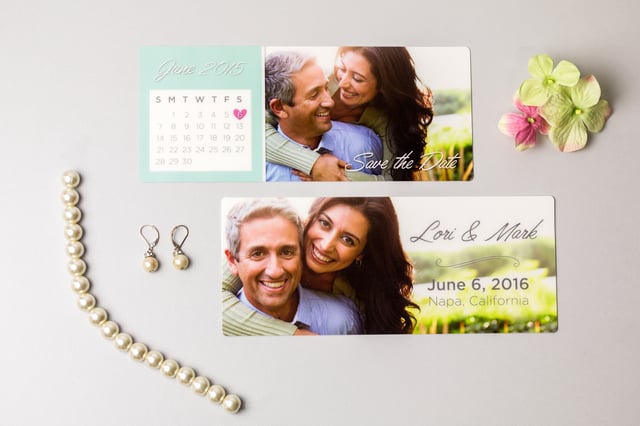 Usually sent out six to nine months before the wedding date, Save The Date cards are kind of like a snap preview of your wedding and what's to come.
They're a necessity if you're having a destination wedding, or if you have a lot of family from out of town who will really need to plan for your big day. Save The Dates are also important if you're going to have a holiday wedding or if you think hotel rooms will be tricky to get around the date of your wedding.
Save The Date cards are less important if you're marrying close to home. Your guests will get a two to three month notice with the invitations, so there's not a real need to send them.
We often recommend that Save The Dates can be sent out via email. That can save time and money, and still gives your guests the information they need to get started.
Wedding Invitations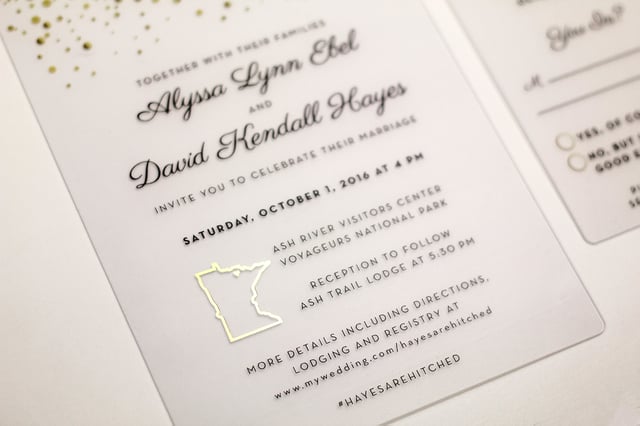 These are a no-brainer. You need wedding invitations to announce your wedding to your guests and to get RSVP's so you can plan the event itself. It really doesn't matter how many guests you're having over, it's worth sending them. This is NOT an email occasion. Your elderly relatives don't have email, or don't check it, and you don't need Great Uncle Mitch throwing a fit because he "wasn't invited."
A couple of tips to save some money and cut down on clutter. Rather than have people RSVP by mail, maybe have them RSVP to an email address instead. You can also skip the reception card, especially if the service and wedding are in the same place.
Also, what's the deal with that piece of tissue paper? I'd skip that too!
Wedding Programs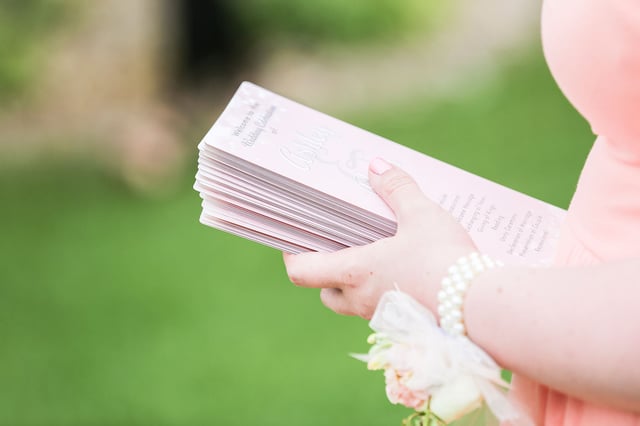 Much like a program at a play, wedding programs update your guests on what will go on during the ceremony. A wedding program is especially helpful to explain religious customs and ceremonial things that not everyone will know. But programs are also helpful to give people the sequence of events, and a rundown of who's in the wedding party. It's also a great opportunity to thank people for coming.
Programs aren't really required for simple, or smaller secular ceremonies. They might just confuse people, and again, can be expensive.
For larger weddings, however, they can be essential. They can give people the basics they need, keep guests from being bewildered, and share great information, like how to get to the reception from the wedding. Programs can also have a couple of fun pictures like engagement photos or a cute map.
Escort Cards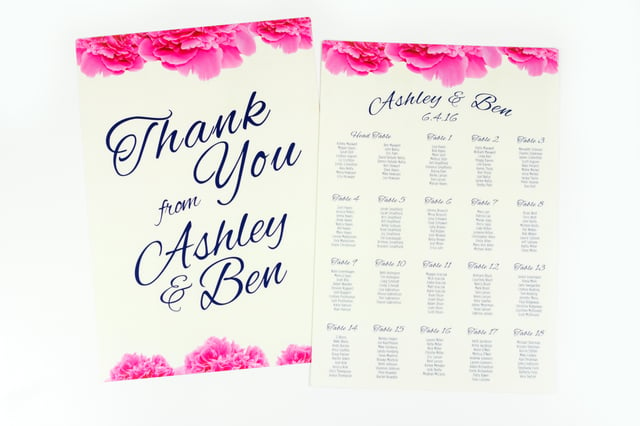 These are the first things your guests see on their way into your reception. Escort cards are a great way to remove chaos and stress, by making sure each person knows what table they'll be seated at, but does not assign seats. As far as I'm concerned, these are ESSENTIAL! Nothing will make your Grandma complain more than having to sit in the back at the reception, while your co-workers get great front row seating!
Make sure escort cards are easily accessible from the door people will enter. Some people even have a Sign that has table assigments as they enter, and a card or coaster to reserve your guests seat at the table. These can also eliminate the need for place cards, depending on how you want to do them.
Place Cards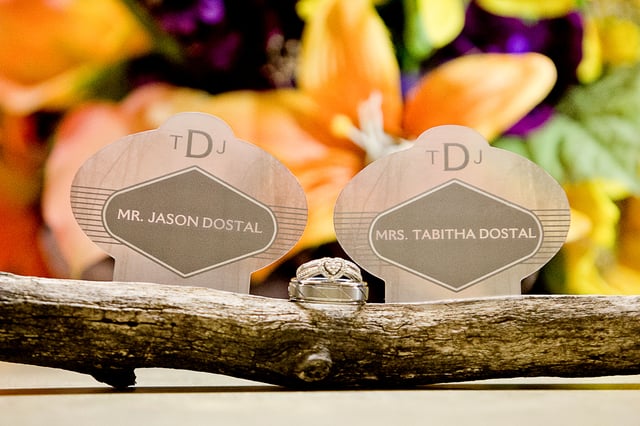 The main different between placement cards from escort cards, is that they are preset on the tables with the exact seat your guest will sit in. It is a more formal wedding practice. My general feeling is that if you use escort cards, then you certainly don't need place cards.
The exceptions would be either a small wedding, where you have 30 or less people. Then you might skip the escort cards, and go straight to the place cards. Or in the event that you really want your friends to mingle, you might want to seat them next to someone specifically to get them to interact.
Wedding Menu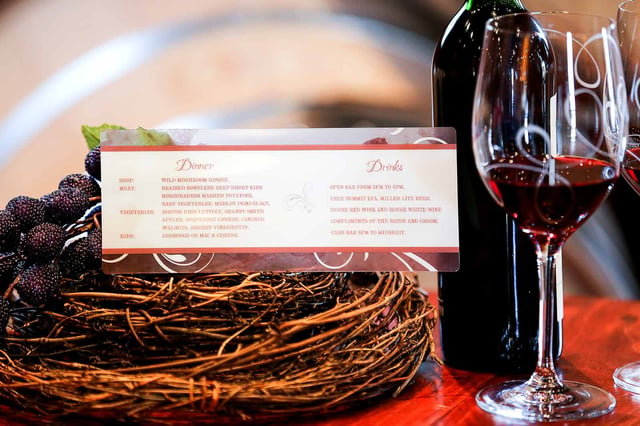 Menus add an elegance and a more formal feel to your wedding. Personally I like menus at a buffet style wedding just so I have an idea of what choices are available while I am waiting. I am a bit of a foodie, and the choices make it exciting. If the wedding is formal, the wedding menu cards are traditionally expected. If you did give your guests a choice between different appetizers, entrees, or desserts the menu will remind them of their selection. Also this will help your servers so that the service will run smoother. You could accomplish this by individual menu cards at each seat, one per table, on the backside of your table numbers, or one for the entire reception on a large sign of some sort.
No matter what type of dinner format you choose, menu cards are the best way to provide an explanation of the ingredients within each dish. So, if you have any guests with food allergies, intolerances or dietary needs, they'll know exactly which dishes they should eat and avoid. If you know you have several guests with allergies or specific dietary needs, they'll appreciate having their own card to reference.
Party Favors & Keepsakes

Once in a lifetime events, we find ourselves wanting to savor the memories thru special keepsakes. Each wedding is so truly unique, I will highlight some of my very favorite party favors that guests enjoy taking home with them to cherish the memories beyond your wedding. So, if you have destination wedding a great party favor that you can have personlized is Luggage Tags. Make personalized tags to goodie bags with your names and wedding dates on them, or even with each guests name. Other wedding favorites are Coasters and Wine Charms.
Wedding Thank You Notes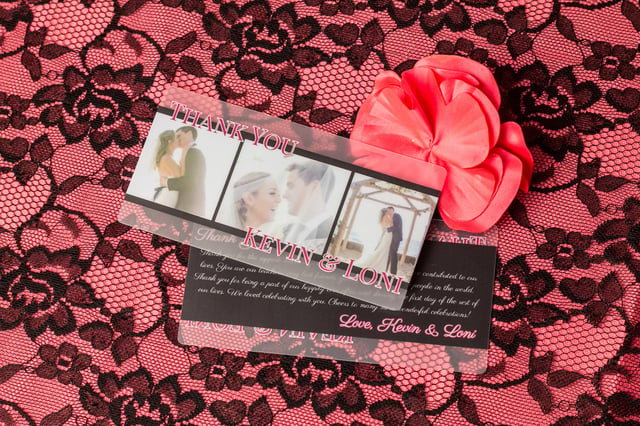 These are clearly a must-have item. You gotta thank your customers for attending, and showering you with gifts!
It's really protocol to send personal Wedding Thank You notes for each gift you receive. Even if you receive a gift after the wedding, it's still good to be gracious, and thank people for celebrating with you.
A quick word of advice, you should start writing the Thank You cards as soon as you start receiving gifts. This is going to become somewhat overwhelming, and you don't want to fall behind. Etiquette say to try not to send Thank Yous more than six weeks after the wedding is over. If you're anything like me they'll be past the six weeks, but saying thanks late is better than not saying "thank you" at all.
Need advice about what to order for your wedding package?
The one thing that stands out to me is that every wedding is different. If you ever need someone with a lot of experience to talk to, who can give you advice on what you do and don't need for your wedding, please feel free to reach out to me anytime. I'm happy to be a resource for you.
---